New Donation from Soekris Engineering
---

Today, we are pleased to announced that Soekris Engineering has donated a net6501 kit to Voyage Linux community. Their donation enables us to carry out certification work on net6501-based boards and encourages Voyage Linux project to support Soekris boards.
Along with the net6501-50 board and a standard enclosure, we also receive the following accessories and souvenir as well.
a PSU, 12V x 3.0A unit.
2.5" SATA hard drive mounting kit for net6501
Sandisk Cruzer Fit 4GB USB drive
Soekris-branded cap and pen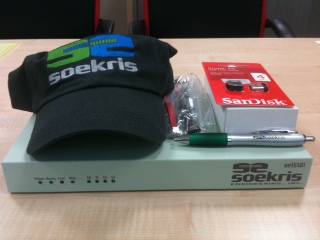 You can find more information about Soekris net6501 board here
Once again, we would like to express our gratitude to Soekris Engineering for their generous donation.